How the London Underground map helped us solve the problems of one of the largest financial institutions in the world.
Friday
14:00
Transformatorhuis #TH
How we used a classic visual language to elicit feedback from 300 stakeholders.
After the fiscal crisis of 2009, the Securities Exchange commission (SEC) mandated changes in how banks develop and launch new financial products. Our team was tasked with redesigning this process for one of the largest financial institutions in the world. We had our hands full and the pressure was on--the future of this firm depended on the success of this redesign. Perhaps most challenging - we had a highly-charged international set of stakeholders and users to satisfy along the way. How on earth could we share our requirements and our proposed design with an audience of 300+ scattered around the globe?
My presentation will show how we successfully applied a design theory to a real-life scenario to communicate with a highly-charged, international audience. I'll share how Harry Beck's iconic London Underground map inspired us to create a design language that our client's urban, international team would fully understand and embrace.
By adopting a station stop and train line metaphor, we were able to illustrate how a new product approval process could be designed to adapt to each user. Unlike the traditional workflow diagram, using this familiar metaphor to express both requirements and workflows meant diverse users could interpret our design even when we were not there to present it. Expressed in a familiar idiom that transcended text, it was much easier for our audience to offer feedback and ultimately buy in. Not only did this metaphor augment the collaboration between research, design, content strategy and development, it earned the appreciation of the client's IT team. As a result, the map became the IT department's requirements document of record.
During this session, attendees will learn
How to identify visual languages that make complex systems and processes relevant to a specific audience
How to design a visual language that can stand on its own when the designer can't be present
How we can take inspiration from classic works and use these pieces to tell stories that are relevant to modern day problems
I will share both a 3D interactive version of the map created in Processing 2 and a large, 12' print out.
Kent Eisenhuth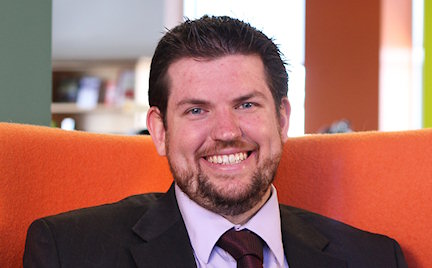 About Kent: As a lead consultant, Kent participates in all parts of the design process, mentors junior designers and helps shape Electronic Ink's design methodologies on specific projects.
Kent develops innovative design solutions to problems affecting businesses and creates interfaces that are both usable and elegant. Working closely with researchers and content strategists, he deploys user workflows, product and interface information architecture, and aesthetic modeling to respond to unique client challenges. His clients include Comcast, Thomson Reuters, Abbott Laboratories, Exelon and The Pew Charitable Trust.
Kent is also an adjunct professor at Drexel University where he teaches Web Graphics 1, which is an intro to HTML5 for design students.
Kent excels in prototyping, visual design, interaction design, data visualization and creating effective presentations. His past projects include designing intranet and micro-sites, developing dynamic web applications in Flash, and leading information architecture efforts in web, software and mobile projects. He helped designed one of the first iOS apps that controlled home lighting systems.
Around the office, Kent is known for his groundbreaking innovations, one of which is a proprietary presentation tool used daily by our design consultants.
Kent is a graduate of Kutztown University, where he earned a BA in communication design.