Playful Thinking
Sold out
— Free workshop presented by SAP —
Idea generation and value proposition creation is one of the most critical phase in the design process.
When we enter into the ideation phase of the design process, we all get into some kind of brainstorming sessions. This is one of the most critical phase of the design process where wildest of ideas need to come out. Sometimes due to lack of structure and moderation these sessions lead to dilution of ideas because of deep deliberations or criticism or reasons alike.
So if you have been in similar situations and want to learn how these sessions can be made more productive and that too in a very fun and playful way, this workshop would help you achieve this goal.
The workshop will introduce a board game that can be used to conduct any kind of idea generation or brainstorming sessions.
The board game has been specifically designed to overcome the following problems of such brainstorming session:
Brainstorm sessions turn into critique sessions.
Usual suspects say the usual things.
Feeling that "This idea will anyways get killed".
No time constraint leads to deep deliberations, hence dilution of ideas.
A lot of use cases are missed out when the discussions get stuck around the popular use-cases.
Corner cases almost always are left out.
The workshop will be complete hands on, where you will be learning by doing.
It will be conducted in two parts. First the groups will try to do a typical brainstorm session and later play the game for brainstorming.
In the end, participants can compare the effectiveness of the game approach over traditional brainstorming sessions.
Sajid Saiyed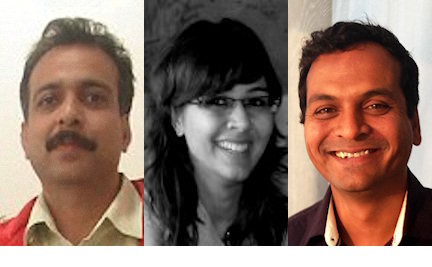 About Sajid: Sajid is an Architect by qualification and Experience Designer by choice. He enjoys solving complex problems. He has more than 17 years of experience in various design domains like Architecture, Web, Mobile, Multimedia, Graphic design and Consumer electronics.
Currently he is leading some of the key User Experience Design project at SAP Labs Bangalore.
Dhwani Soni
About Dhwani: Dhwani calls herself an Insight Strategist. She loves working with users and gathering hands on insights. Engaging them in interesting games and challenges and then converting the ideas into interesting screen designs.
Dhwani is a Post Graduate from National Institute of Design. She has worked in the field of Consumer Electronics, Fashion, Web and Hand held Mobile devices. Currently she is working with SAP Labs Bangalore in the field of User Experience Design.
Shirish Totade
About Shirish: Shirish is a User experience designer with More than 10 years of experience. I have worked on Enterprise Application designing various areas of Supply Chain Management like Planning, Manufacturing and Execution. I am a nature enthusiast and love wild life photography.