Amsterdam Journeys
Friday
20:00
Jordaan District - Amsterdam, Social event
Did someone say pub crawl?
You're invited to join us on Amsterdam Journeys, a lively stroll around some of the best local bars in the charming streets of the Jordaan district and inner canal belt. You will be handed a map when you leave Westergasfabriek, with some suggestions for some of the best bars and bar areas to get you started. If you go to Café de Jaren between 20:00 and 22:00, Facebook will welcome you there and buy you a drink.
Of course, we won't send you along without suggestions for some great places to eat first. Or afterwards, if that's your thing. Oh, and then there's this thing about karaoke...
So take the map and go explore the streets of Amsterdam with your friends.
Facebook Happy Hour in Café de Jaren
From 20:00 till 22:00 Facebook will buy you a drink in Café de Jaren, Nieuwe Doelenstraat 20. Trams 4, 9, 14, 16 and 24 will take you to the closest stop at Muntplein. From there it's a short 1 minute walk to Café de Jaren.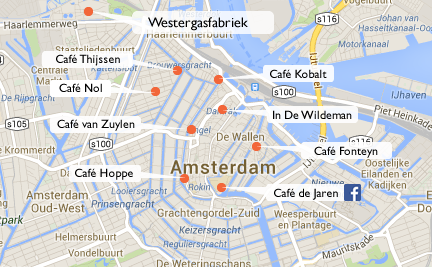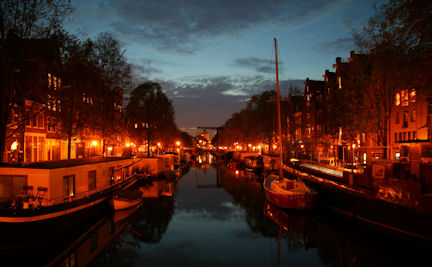 De Jordaan, Amsterdam
De Jordaan
Originally a working-class neighborhood, the Jordaan has become one of the most expensive, upscale locations in the Netherlands. But neighbors are unvaried pleasantly nosy.
Its maze-like streets with hidden courtyards are home to many bars and art galleries, particularly for modern art, and are also dotted with speciality shops and restaurants.
The district begins at Brouwersgracht, just west of Central Station and arches around the Canal Ring between Prinsengracht and Lijnbaansgracht before ending at the Leidsegracht. Traditionally, Jordaan was defined by the area in which you could hear the bells of Westerkerk — as Anne Frank described in her diaries.