Join the conversation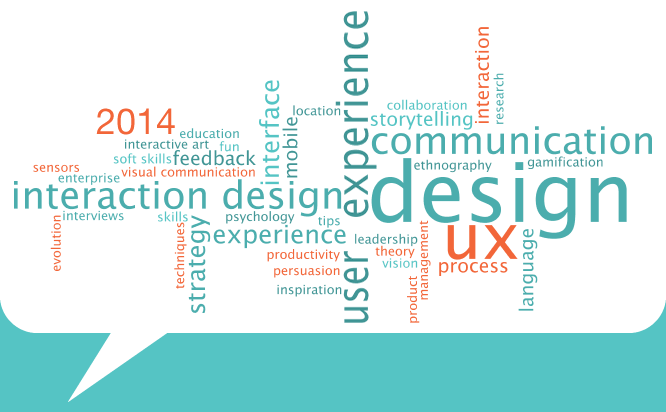 Newsletters ⁞ January 6, 2014
We wish everyone a happy and healthy 2014. There's just one month to go until Interaction14. We look forward to welcoming the global IxDA community to Amsterdam.
Although our three-day conference tickets sold out, you can still buy tickets for a single day and for the social events. Whether you're attending or not, we invite you to share your view on the Languages of Interaction Design.
Single day and social events
There are 20 single day conference tickets available for each day. These do not include any social events. There are 30 Social Event tickets for the Welcome Party on Wednesday and the Interaction Awards Celebration on Saturday.
Tickets go on sale January 6 at 4pm CET (10am EDT, 7am PDT) »
Workshops – best practices
Four workshops have already sold out but there are still ten available. These include workshops on: sketching, prototyping, gamification, understanding the user, going beyond the wireframe, driving your career, being a user centred product manager, systems, and… failing.
Local leaders' workshop
Interested in starting an IxDA group in your city? Then join us at the annual Local Leaders' Workshop. Meet with others to discuss strategies for designing a passionate community in your area. Erik Dahl, the Founder and Organizer of Midwest UX Conference will share stories about growing a local group and building community.
Attention all educators
Jared Spool is the keynote speaker for the 2014 Interaction Design Education Summit. The theme: Re-inventing Interaction Design Education. Gillian Crampton Smith, Daniel Rosenberg and Fred Beecher will act as provocateurs at the break-out sessions.
A must attend event for all educators, curriculum builders and design professionals »
Meet the Student Design Challenge finalists
Congratulations to the finalists of the 2014 IxDA Student Design Challenge. They have won trips to Amsterdam to compete over three days for prizes. Meet them at the SDC Zoo at the conference. A special thanks to the Gates Foundation for sponsoring this challenge.
Celebrate with the 2014 Interaction Award finalists
At the 2014 Interaction Awards, there are 27 finalists competing in six categories: Best in Category, Best Concept, Best Student, Best in Show, Future Voice Award and the People's Choice Award.
The winners will be announced at the Interaction Awards Celebration on Saturday evening, February 8. This night, generously sponsored by Microsoft, is a wonderful way to close out Interaction14 and celebrate.
Join the #IxD14 conversation
We asked science fiction writer Bruce Sterling, user researcher Leisa Reichelt and interaction designer Lisa Ma four questions. Listen to their thoughts on interaction design and share yours »
We'll be adding more interviews in the upcoming weeks, so stay tuned.
On behalf of the entire team, we look forward to welcoming you to Amsterdam.
Alok Nandi and Yohan Creemers,
Co-chairs Interaction14.
---
Previous and next article